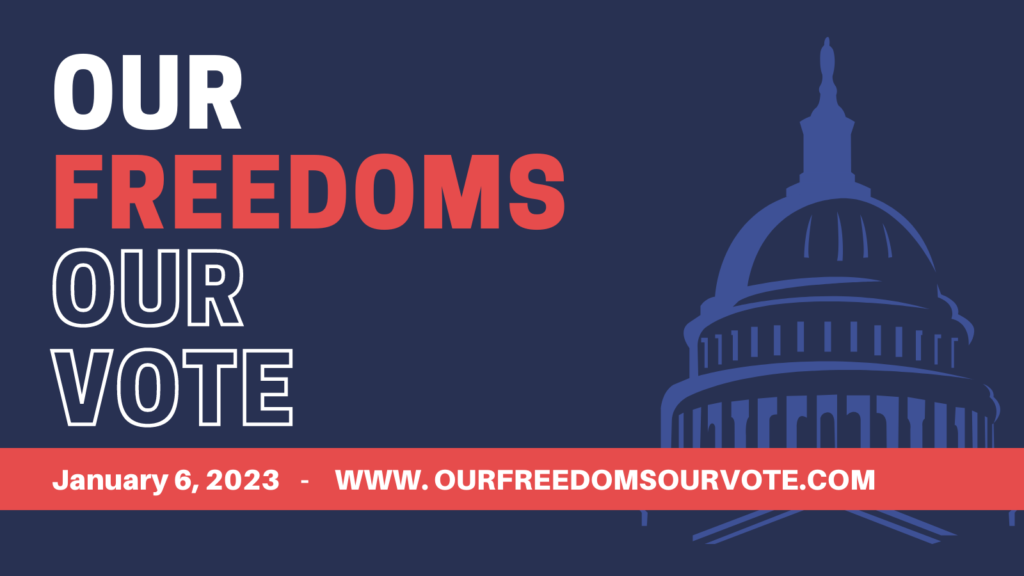 Join the Not Above the Law Coalition, Declaration for American Democracy and special guests Martin Luther King III and Arndrea Waters King for a livestream of the Our Freedoms, Our Vote January 6 Rally in Washington, DC.
Weeks after voters widely repudiated the most prominent election deniers at the polls driven by deep concern over the state of democracy, people across the U.S. will rally in observance of the two-year mark since the attack on the U.S. Capitol to prevent a peaceful transfer of power.
Events will take place at the Capitol and nationwide to push for accountability to prevent future power grabs by former U.S. President Donald Trump and his allies, and to tell elected leaders to act on a mandate for democracy reforms to protect our freedom to vote, including those mentioned in the new report from the January 6th Select Committee, as well as D.C. Statehood, which would secure representation for D.C. residents, who were most directly affected by the Capitol attack to protect our freedom to vote.
The event comes as Trump and prominent election conspirators continue to spread false claims about the 2020 election results and undermine our Constitution, and prepare to launch a sham investigation into the January 6 committee so that they can stay in power to push their unpopular agenda: to destroy reproductive rights, steal our social security and our Medicare, and stop our ability to access affordable higher education, address the climate crisis, or prevent gun violence, among others.
Sign up here to attend the DC event virtually or tune in via the Declaration for American Democracy Facebook page.