WV Citizens for Clean Elections
Action Alert
Thursday, October 26th: "Lunch Out Loud" Webinar Series Continues, Followed by "No Time to Fail" Virtual Watch Party
Oct 24, 2023
View / Comment Online
 Donate 
We hope you can join us this Thursday, October 26th at noon for the next webinar in our Lunch Out Loud series. Takeiya Smith and student leaders from Young West Virginia will be hosting a discussion on the challenges that youth face in our democracy. Former Secretary of State Natalie Tennant will co-facilitate the discussion along with Takeiya. Students will share their experiences mobilizing peers in the electoral process. The goal is to uplift youth's pivotal role in civic engagement while also reviewing the fundamentals of voter information. 
Register here or at https://tinyurl.com/YoungWVLunchOutLoud to join the conversation. 
On Thursday evening, join us and our friends at Public Citizen for the premiere of "No Time to Fail," a powerful film that gives voice to the unsung heroes of the 2020 election – election administrators. 
Despite the unbelievable challenges and desperate attempts to disrupt and upend the 2020 election, they pulled off the most secure election in our history — and they did it amidst a global pandemic. Rather than receiving a hero's welcome, they have become the focus of an ongoing coordinated campaign of disinformation.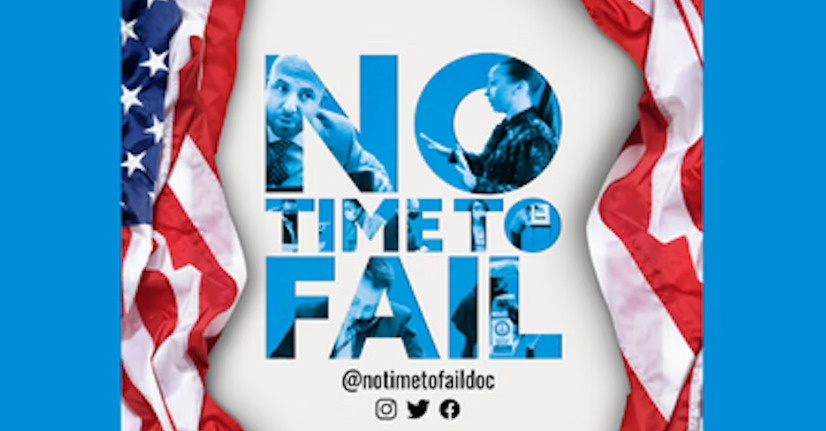 "No Time To Fail" gives voice to the experiences of this largely invisible, yet completely indispensable workforce, at this critical time in our country's relationship with election management.
On Thursday, October 26 from 7:00-9:30 pm ET, Public Citizen is joining the producers and former election official Tina Barton to host a virtual watch event for the film's premiere on PBS.
RSVP here to watch the documentary with other activists who care about protecting our election workers from attacks and conspiracy theories.
Our democracy depends on these local heroes. 
---
If you missed our previous webinars, no worries. You can find the videos on the WV Citizens for Clean Elections Facebook page. 
For our first Lunch Out Loud on July 28, featured Atiba Ellis, Professor of Law at Case Western Reserve University School of Law, and Anthony Majestro, a Charleston attorney with experience in election law, discussing recent decisions by the US Supreme Court that affect voting rights, and what they mean for ballot access in West Virginia. The conversation was moderated by former Secretary of State Natalie Tennant. Click here to watch.
In August, our series continued with two events. Recently the WV Legislature has taken extraordinary measures to fast-track legislation and keep the public out of the process. On August 24th a panel of lobbyists, former legislators, and journalists discussed what is happening, the lack of transparency and the impacts on democratic participation.
Panelists:
Eli Baumwell

, Policy Director, ACLU of WV

Margaret Chapman-Pomponio

, Executive Director, WV FREE

Former Delegate

Barbara Fleischauer
Phil Kabler

, Columnist/ Retired Statehouse Reporter,

the Charleston Gazette-Mail
The conversation was moderated by former Secretary of State Natalie Tennant. Click here to watch. 
We also held a "bonus" event to commemorate the 60th Anniversary of the March on Washington on Monday, August 28th to hear from West Virginians who were there on that historic day. Al Anderson, Rev. Ron English, Gibbs Kinderman, and Betty Rivard shared memories and reflections from that day and hearing Rev. Martin Luther King, Jr.'s "I Have a Dream" speech. Community advocate and organizer Kathy Ferguson facilitated the conversation. Click here to watch and hear these inspiring speakers. 
We are looking forward to hosting more conversations this fall and into 2024.