Five days from the election, outside spending in West Virginia elections has reached $19.2 million this election cycle. Outside groups have reported spending an additional $4.1 million dollars over the past week.[i] (For comparison, a second round of disclosures by candidates for executive, legislative, and judicial offices shows they have spent $21.7 million to date.[ii]) More than half (61%) of the spending reported over the past week, was spent by Mountaineers Are Always Free PAC and the Republican Governors Association's Right Direction PAC. Both have spent more than a million dollars since October 25 supporting Attorney General Patrick Morrisey and Bill Cole and attacking their Democratic opponents.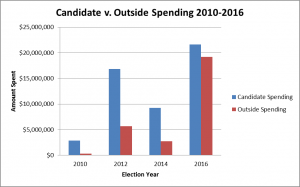 The top spending groups this election cycle are:[iii]
This year's outside spending by race breaks down as follows:
Attorney General – $6,710,283
Governor – $5,432,150
Supreme Court – $3,644,315
Third party organizations have also spent $3.2 million in various state Senate races (See table below for spending totals and race ranking).
District
Candidate
Against
For
Candidate Total
Race Total
4
Brian Prim
$44,010
$670,420
$714,430
$986,343
Dustin Lewis
$7,577
$648
$8,225
Mitch B. Carmichael
$233,889
$29,799
$263,689
14
Bob Williams
$28,550
$122,345
$150,894
$301,119
Randy E. Smith
$137,531
$12,694
$150,224
11
Denise Lynne Campbell
$17,402
$99,985
$117,387
$297,338
Gregory L. Boso
$152,891
$27,060
$179,951
8
Chris Wesley Walters
$90,776
$21,857
$112,633
$259,825
Glenn D. Jeffries
$28,106
$119,086
$147,192
1
Jack Yost
$31,203
$111,947
$143,150
$255,727
Ryan W. Weld
$98,507
$14,071
$112,578
16
Patricia Puertas Rucker
$81,425
$9,809
$91,234
$237,636
Stephen G. Skinner
$12,413
$133,988
$146,401
2
Lisa Zukoff
$38,322
$104,063
$142,385
$205,412
Mike Maroney
$50,390
$12,637
$63,027
6
Chandler Swope
$63,035
$10,376
$73,411
$190,197
Robert Rocky Seay
$29,658
$87,128
$116,786
9
D. Michael Goode
$18,430
$82,040
$100,470
$173,601
Sue Cline
$40,259
$32,871
$73,130
3
Gregory K Smith
$105,379
$105,379
$165,844
Mike Azinger
$58,471
$1,993
$60,464
10
David G. Perry
$30,369
$75,837
$106,206
$159,721
Kenny Mann
$42,001
$11,514
$53,515
17
Christopher A. Stansbury
$1,491
$1,491
$1,491
7
Arthur E. Kirkendoll
$900
$900
$900
Total Spending
 
$1,335,214
$1,899,939
 
$3,235,153
[i] https://cfrs.wvsos.com/#/ieec_list/8
[ii] https://cfrs.wvsos.com/#/home/8/-2/en
[iii] https://cfrs.wvsos.com/#/ieec_list/8
[iv] http://www.wvgazettemail.com/news-politics/20160923/national-gop-group-spends-big-on-morrisey-re-election#sthash.l3yOgyL3.dpuf
[v] https://www.washingtonpost.com/business/economy/conservative-groups-pour-money-into-races-for-state-attorneys-general/2016/09/23/7a57030c-7e86-11e6-8d13-d7c704ef9fd9_story.html
[vi] http://www.wvgazettemail.com/news-election/20161024/gop-group-has-spent-5m-on-morriseys-ag-campaign
[vii] https://www.opensecrets.org/527s/527cmtedetail_contribs.php?ein=113655877
[viii] https://www.opensecrets.org/527s/527cmtedetail_contribs.php?ein=464501717&cycle=2016
[ix] http://www.wvgazettemail.com/news-politics/20161031/big-money-from-all-over-pours-into-wv-legislative-campaigns
[x] https://www.opensecrets.org/527s/527cmtedetail_contribs.php?ein=050532524&cycle=2016
[xi] http://docquery.fec.gov/cgi-bin/fecimg?_201610149032491837+0
[xii] https://www.opensecrets.org/527s/527cmtedetail_contribs.php?ein=521304889&cycle=2016