This month, West Virginians are fighting for Democracy and you can take action with us by joining in either or both of these two events.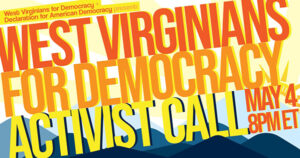 Join West Virginia for Democracy for an activist call on the For the People Act, the most transformative democracy legislation in a generation.
Enjoy live music and hear from West Virginians working to restore the promise of truly representative American democracy for all including Takeiya Smith from Young West Virginia and former WV Secretary of State Natalie Tennant.
Learn how the For the People Act and John Lewis Voting Rights Advancement Act will protect West Virginians' freedom to vote and combat exploitation. 
We'll also hear about why the For the People Act is critical for better healthcare, better services and a government that better represents all West Virginians & and how you can help get it passed!
Can you join our West Virginia S.1 Activist Call on Tuesday, May 4th at 8pm ET?
RSVP Here: https://www.mobilize.us/dfadcoalition/event/385199/ 
Facebook Event Link: https://www.facebook.com/events/210014413970870

The Late Congressman John Lewis shed his blood crossing the Edmund Pettus Bridge to Fight for Black voters and Voters of Color to participate in America's electoral Process and the enactment of the 1965 Voting Rights Act.
Today voting rights are under attack nationally by state legislators introducing and passing laws to put up barriers to our participation in elections. Americans are coming together to fight back. Meanwhile, special interests and Billionaires are spending unlimited amounts of money to buy our elections. 
Join us on May 8 to demand the passage of the For the People Act, the John Lewis Voting Rights Advancement Act and D.C. Statehood and to address one of the greatest obstacles to the passage of civil and voting rights – and one of the last vestiges of slavery – the filibuster!
We hope you can join to become part of history and continue to fight to protect democracy, civil rights, and voter protections for all.
Events are being held online and in locations across the country and around West Virginia. 
In solidarity,
WV Citizens for Clean Elections