This week WV Citizens for Clean Elections, our partners and allies are hosting virtual and in-person events in support of the For the People Act. We hope you can join us.
---
Monday, June 14 at 5 PM in Charleston – Moral Monday March with Rev. Dr. William Barber and the WV Poor People's Campaign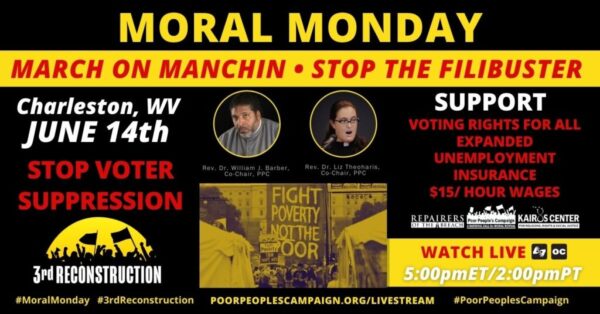 Speakers include impacted West Virginians, local faith and community leaders, Poor People's Campaign co-chairs Rev. Dr. William Barber & Rev. Dr. Liz Theoharis, and United Mine Workers of America President Cecil Roberts. 
West Virginians need a full restoration of the 1965 Voting Rights Act and expanded protections for our democracy, beginning with the right to vote for everybody. Senator Manchin's call for "bipartisanship" goes against the interests of poor and low-income West Virginians, who desperately need living wages of at least $15 / hour, guaranteed health care, housing and an infrastructure plan that meets all of our needs.
The West Virginia Poor People's Campaign is calling on all West Virginians of moral conscience to join them in Charleston tomorrow.
---
Monday, June 14 at 5 PM Martinsburg – Rally to Fix America and the US Senate
Join the NAACP Berkeley and Jefferson County Branches, and the Eastern Panhandle Labor Council to let Senator Manchin know that we have to end the crippling in action of the US Senat and get bills passed that Americans want and need. 
When: Monday, June 14 at 5:00 PM 
Where: Senator Manchin's office, 261 Aikens Center, Suite 305, Martinsburg
Why: In support of
Protecting voting rights
Stopping corruption in Congress
Extending unemployment insurance
Establishing a $15/hour minimum wage
Fixing America's infrastructure
Critical to all of these: ending the filibuster
---
Thurday, June 17 at 7 PM on Facebook live or Zoom – Redistricting for the People! Teach-In
We, the people, should be leading the process and choosing our representatives, not the other way around. Join the League of Women Voters of West Virginia for a teach-in on redistricting and the For the People Act. 
Who: League of Women Voters of West Virginia & special guests
When: Thursday, June 17 at 7 PM
Why: Learn how the redistricting process is going to work this year, how the For the People Act would impact it in the future, and what you can do to get involved.
Speakers include Delegates Barbara Fleischauer & Evan Hansen with Moderator Effie Kallas from Co-President of LWV-WV.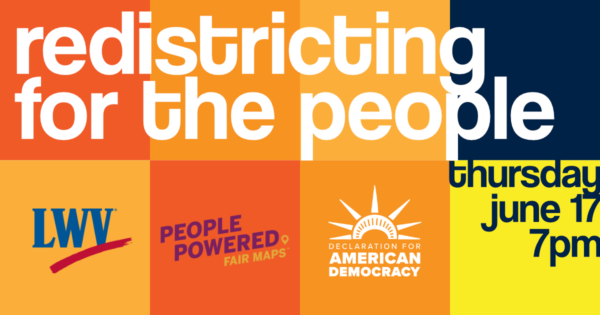 ---
Sunday, June 20 – Celebrate West Virginia Day and Support the For The People Act
The For the People Act (H.R. 1/S. 1) is a critical package of reforms to protect our democracy by getting dark money out of politics, stopping billionaires from buying elections, cracking down on corruption, ending partisan gerrymandering, protecting the freedom to vote, and ensuring elections are safe, accurate, and accessible.
On the weekend of June 20th, you can celebrate the Mountain State by hosting a gathering to learn about the For the People Act, make a birthday card for West Virginia to send to Senators Manchin & Capito, and spend time with your community.
Sign up here to host a celebration or rally. We'll follow up with a toolkit full of resources to make it easy to organize.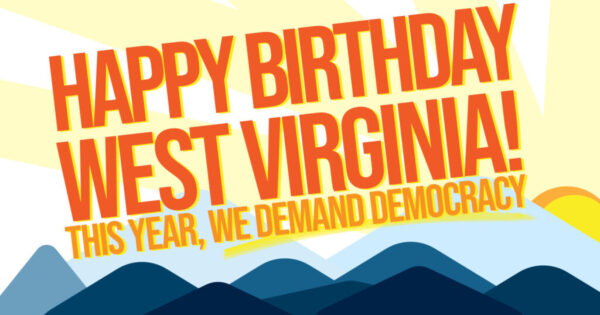 ---
Click here for more actions and ways to get involved.