Dear Friends, Partners, and Allies, 
Happy New Year, YOU did it! Thanks to contributions from folks like you, we raised the $5,000 needed to meet our #WVProDemocracy match. Actually, we more than made it. We raised $7,380!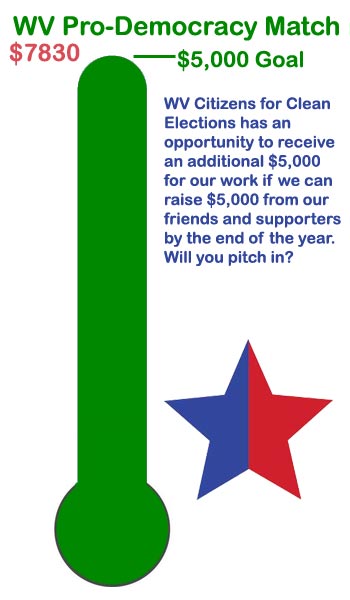 This means we will be in great shape going into the 2020 WV Legislative Session. We hope we can continue to count on you — every session people like you help advance our Pro-Democracy, Anti-Corruption Platform by calling legislators, writing letters to the editor, and talking with friends and neighbors.
Our successful fundraiser also means we can continue our work in educating the public about the important role the courts play in protecting West Virginians and their families, and what we can do to protect the fairness and independence of our courts.
If you haven't already, please sign our petition asking members of the WV Legislature to join you in supporting the #WVProDemocracy Platform, and stayed tuned for updates and calls to action starting next week.
Thank YOU, and Best Wishes for 2020!
Sincerely, 
Julie Archer
Project Manager, WV Citizen Action Group (WV CAG)
Coordinator, WV Citizens for Clean Elections
Vivian Stockman
Executive Director, Ohio Valley Environmental Coalition (OVEC)