Please join us Monday, June 21 at 7 PM for conversation about fair courts and the For the People Act featuring state and national experts.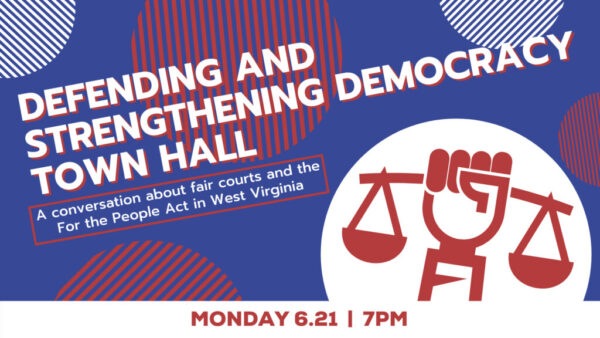 WHO: WV Citizens for Clean Elections with special guests Community Organizer and former West Virginia Delegate Sammi Brown, Brennan Center for Justice Democracy Fellow and Counsel Patrick Berry, and West Virginia AFL-CIO President Josh Sword. 
WHAT: Virtual town hall highlighting how state-level attacks on judicial independence are interconnected with the fight to protect the freedom to vote. We'll also discuss how these attacks impact the rights of West Virginia workers and families. 
WHEN: Monday, June 21, at 7 PM
DETAILS: Click here to RSVP for the Zoom webinar 
The town hall will also stream via Facebook Live. 
We hope to see you there! 
---
More About Our Speakers
Patrick Berry – Patrick is a counsel in the Brennan Center's Democracy Program, where he focuses on voting rights restoration and promoting fair, diverse, and impartial courts. During law school, he was a law clerk at Citizens for Responsibility and Ethics in Washington and Open Primaries. Patrick received his BA from the University of Central Florida and his JD from the University of Pennsylvania Law School, where he participated in the legislative clinic and was an executive editor for the Journal of Law & Public Affairs.
Sammi Brown – Raised in Ranson and Charles Town, Sammi is a lifelong advocate and organizer. With a Masters of Business Administration from Shepherd University, Sammi works to bring prosperity to her community. Often an activist on the front lines, Sammi has stood alongside educators, working families, and everyday citizens fighting for their health care in Charleston and across the state.
Raised by a family of organizers and servicemen, Sammi lives to serve her fellow West Virginians. She has fought for the rights of working families and advocated for access to affordable Health Care and preservation of Safety Net programs for all West Virginians.
Sammi served as a member of the West Virginia House of Delegates for the 65th District in Jefferson County from 2018 to 2020. She is a commissioned officer in the West Virginia Air National Guard, and currently works as a West Virginia Organizer for RepresentUs. 
Josh Sword – Josh has served as President of the WV AFL-CIO since 2016. Prior to that he served as Secretary-Treasurer for four years, managing the group's financial accounts and actively participating in political and legislative processes on behalf of its members.
Before joining the leadership of the WV AFL-CIO, Sword worked for the American Federation of Teachers-West Virginia, from 1999 to 2012. He began his 13-year career with the AFT-WV as benefits coordinator and eventually transitioned to political director. During his stint at AFT-WV, Sword was a member of CWA, local 2001. As Secretary-Treasurer of the WV AFL-CIO and now President, he is member of LIUNA (Laborers') local 1353.
Josh believes that working families deserve a voice in the workplace and that voice is critical to a prosperous middle class. Union roots run deep in his family; his father retired as a member of the elevator constructors' union and his grandfather was a union ironworker.
The Charleston area native is a graduate of the University of Charleston, with a bachelor's degree in accounting. Josh and his wife Kelly have two children.