Dear Friends, Partners, and Allies, 
The season of giving is here and you can help give democracy a boost by making a tax-deductible donation toward the WV Pro-Democracy Match today. 
Every dollar you give will be matched up to $5,000.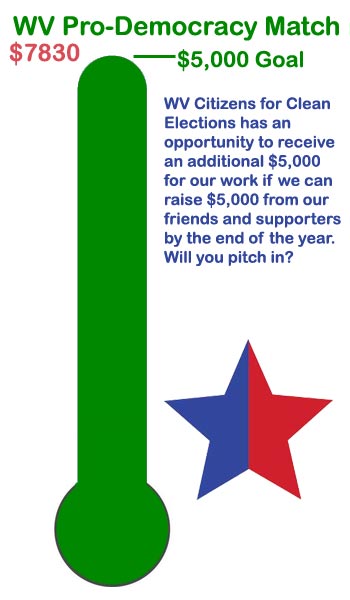 Your donation will help us broaden and build support for our Pro-Democracy, Anti-Corruption Platform in advance of the 2020 legislative session and continue fighting for a democracy that works for all of us.
Your donation will also support our efforts to educate the public about the important role the courts play in their daily lives and why it is so important they educate themselves about the candidates for the WV Supreme Court of Appeals and then vote in May, and again in November. 
You can donate online at ohvec.org/donate or by sending a check to:
OVEC*
PO Box 6753
Huntington, WV 25773
Please be sure to include "WV Pro-Democracy Match" in the comments or memo/for line.
We are grateful for your support and thankful for the movement we are building together. 
January 4, 2020 Update: You did it! Thanks to contributions from folks like you, we raised the $5,000 needed to meet our #WVProDemocracy match. Actually, we more than made it. We raised $7,380! Thank you!
Sincerely,
Julie Archer
Project Manager, WV Citizen Action Group (WV CAG)
Coordinator, WV Citizens for Clean Elections
Vivian Stockman
Executive Director, Ohio Valley Environmental Coalition (OVEC)
*OVEC is our fiscal agent for this match
---
2019 Highlights
During the 2019 legislative session, we continued to fight for increased accountability and transparency in West Virginia elections, limiting the influence of big-money in politics, and making voting more accessible to all citizens. We also defeated some really bad bills, including a court packing scheme that would have created the first bench of unelected judges in West Virginia history, and managed to improve some provisions in others that did pass.
While the Legislature passed a bill (SB 622) that raised contribution limits for West Virginia elections, we sent more than 100 letters to the State Elections Commission asking them to support increased transparency and hold those who spend money to influence our elections accountable. As a result, the Commission adopted most of our recommendations to strengthen the rules implementing SB 622, and we continue to be involved in the rule-making process.
This summer and fall, our communications team has been especially active, publishing several op-eds on the need for more transparency of political spending, more diversity on the bench, and a more healthy democracy where our political leaders defend and promote the right to vote. We also held a successful event to mark the anniversary of the passage of the Voting Rights Act, and called on our members of Congress to restore the provisions of the Act gutted by the US Supreme Court decision in Shelby v. Holder. This was also an opportunity highlight the role the courts can and should play in protecting the right to vote and to highlight ways our lawmakers can make voting more accessible and eliminate unnecessary barriers to the ballot box.
---
WV Citizens for Clean Elections in the News
Dominion buys pipeline support at Supreme Court through GOP Attorneys General
Lawmakers need to protect, promote right to vote (Opinion)
WV lawmakers call for ethics reforms following story on Gov. Justice and The Greenbrier
Judicial public financing a racial justice issue (Opinion)
Advocates: Pass law to stop disenfranchising minority voters
Local organizations ask West Virginians to support to restore Voting Rights Act
Restoration of full Voting Right Act wanted by ralliers on anniversary of signing
SEC spends afternoon clarifying rules for new campaign finance law