As we all grapple with grief and worry during the COVID-19 pandemic, at least in West Virginia we don't have the additional worry of choosing between our health and our right to vote. That was not the case for voters in Wisconsin. On April 7, most Wisconsin voters had to make a difficult choice between going to the polls in a deadly pandemic or not taking part in the cornerstone of our democracy — voting.
Fortunately, West Virginia's elected officials have taken positive steps to ensure that registered voters are eligible to vote during this public health emergency, and do so safely from home. West Virginia's primary will now take place on June 9, instead of May 12. Although we'll still have the option of voting in person, because of the coronavirus, all registered voters can request for an absentee ballot to our county clerks, citing COVID-19 as our medical reason for the request. 
Help spread the word!
Join us for the #VoteTogetherWV PHONE BANKING LAUNCH & TRAINING: Thursday, April 30, 5pm-8:30pm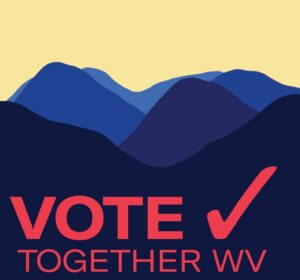 Thank goodness we have this option! By mailing in an absentee ballot, not only are we safeguarding our own health, we also are protecting the health of poll workers and fellow voters. While these changes are for the best, it's important for everyone to understand how important this election is and how to make their voices heard as safely as possible. That's why several of our coalition partners are joining together to help people vote in the era of COVID-19. 
Vote Together WV is looking for volunteers to make phone calls from their homes from April 30 until June 9, and will provide all the info you need (virtual trainings, scripts, phone numbers, staff who are on call to answer questions, etc.) to get started.
And it's gonna be FUN! We'll host two phone bank shifts per week where volunteers can encourage each other, take part in games and themed activities, win PRIZES from local businesses, catch up on training, get questions answered by staff, and more. Once you're trained, you can also make calls whenever works best for you.
Ready to get started?
Sign up today and join us for our big launch on April 30 at 5pm!
5pm – Virtual phone banking training & orientation
6-8pm – Phone banking
8pm – Debrief and what's next
Questions? Email julie@wvoter-owned.org or call (304) 610-9094. 
This election is about far more than the presidential primary. Voters will also select state Supreme Court of Appeals justices and local school board members, among many other races. What transpired in Wisconsin dramatically underlines the importance of the courts in our daily lives. On Tuesday, WV Citizens for Clean Elections is launching a website with our friends at the WV Consumer Protection Alliance to provide you with information about the judicial elections and the candidates so that you can make an informed decision when you vote. Watch your inbox on Monday for more about this resource and how you can help spread the word.
Let's #VoteTogetherWV to give this 2020 primary the best turnout ever! 
General Information on Voting in the 2020 Primary
Due to COVID-19, a few things about the primary have changed:
The election date has been changed from May 12th to June 9th
The voter registration deadline is now May 19th
All West Virginian Voters have the option to vote via absentee ballot
Absentee ballots must be requested via your county clerk; Applications have been mailed to all registered voters (If you haven't received your application contact your county clerk.)
Early Voting is May 27th-June 6th
County Clerks must receive your request for an absentee ballot by June 3rd
For more voting information check out this FAQ from the Secretary of State or visit GoVoteWV.com. 
ABOUT the VOTE TOGETHER WV coalition: Vote Together WV is a joint effort of a nonpartisan state table dedicated to voter turnout and engagement. Our table includes leaders of ACLU-WV, Our Future WV, WV FREE, WV Citizen Action Education Fund, West Virginia Rivers Coalition, Team for West Virginia's Children, NASW-WV, and other partners and allies.