Voting rights are under attack nationwide! If you are in or near Charleston, WV this evening come on out to get informed, inspired, and energized to protect this most basic right of democracy. 
Black Voters Matter #FreedomRide2021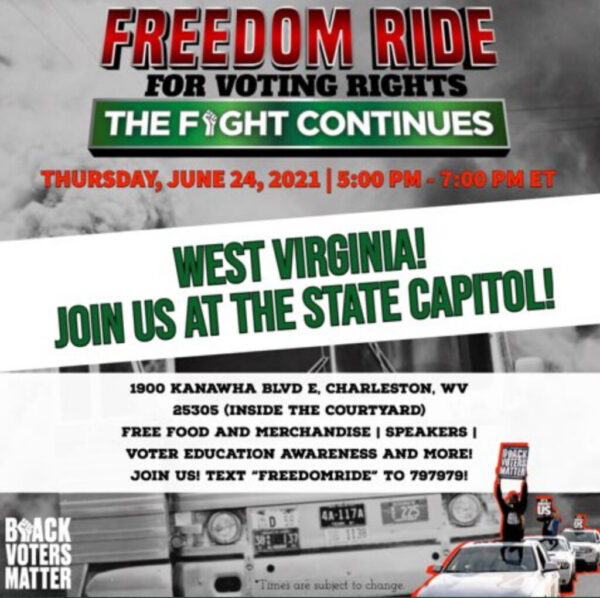 Come out this evening, Thursday June 24 from 5 to 7 p.m. as Black Voters Matter's Freedom Rides for Voting Rights 2021 arrives in Charleston, WV. Please support this event full of history, faith teachings, music, speakers, and much more. 
Register here: Freedom Rides for Voting Rights 2021
---
D.C. Statehood Teach-In – Wednesday, June 30 at 7 PM
Please join us for an all-star night to learn about D.C. Statehood! 
There are more than 700,000 Americans who call Washington, DC home but have no elected representation in Congress. Residents of DC pay taxes, in fact more in federal taxes than 22 states, yet remain voiceless in the issues facing our country.
As the nation grapples with full representation, voting rights and reforming our election systems, D.C. Statehood makes sure that all Americans will be treated equally and not left out. Join us for a frank conversation on why Statehood is a needed part of the movement to preserve democracy and how it relates to the people of West Virginia.
Sign up HERE for the D.C. Statehood Teach-In!
---
ICYMI: Fair Courts and the For the People Act
If you missed our vitual town hall highlighting how state-level attacks on judicial independence are interconnected with the fight to protect the freedom to vote you can watch the recording here. We also discuss how these attacks on the courts impact the rights of West Virginia workers and families. 
Not only are states trying to make it harder to vote, they are also making it harder for voters to protect their rights in court. At the same time, they are also making other changes to the judicial branch at the behest of special interests in order to limit lawusits and make it harder for injured workers and consumers to have their day in court. 
In West Virginia, were already seeing the effects of increased influence peddling as evidenced by the Legislature's vote to establish an expensive and unnecessary intermediate appllate court.
Tell Governor Jim Justice and State Supreme Court Chief Justice Evan Jenkins that West Virginia courts work for the people, not for corporate interests.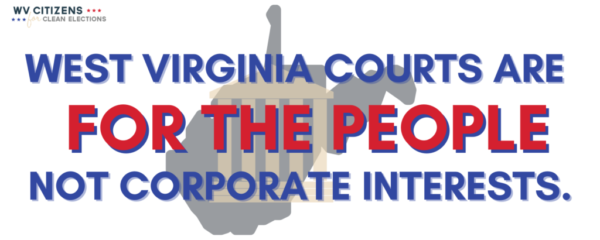 West Virginians deserve transparency in the creation of the Intermediate Court of Appeals.