The Voting Rights Act (VRA) was signed into law 54 years ago on August 6, 1965.  It was the most comprehensive piece of legislation passed to ensure that voting rights were awarded to all citizens, especially racial minorities and one of the greatest  achievements of the 20th Century Civil Rights Movement. But when we gathered with partners and allies earlier this year to mark the anniversary of this important date, we weren't celebrating. That's because, just six years ago the U.S. Supreme Court effectively decimated the Act.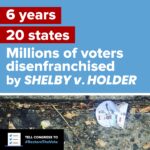 Since the decision, a number of states have implemented laws that disenfranchise voters, and disproportionately affect young people and communities of color — including strict voter ID laws, gerrymandering and voter purges. Fortunately, some members of Congress are working to restore the protections of the VRA to prohibit these types of discriminatory voting changes though the Voting Rights Advancement Act (HR 4). 
The House of Representatives is expected to vote on HR 4 on Thursday or Friday of this week. Please call or click here to contact your US Representative and urge their support for this crucial legislation.
1st District
Congressman David McKinley – (202) 225-4172
2nd District
Congressman Alex Mooney – (202) 225-2711
3rd District
Congresswoman Carol Miller – (202) 225-3452
Congress must pass the Voting Rights Advancement Act (HR 4) and restore our ability to prevent racial discrimination in voting so that we can build the truly representative democracy that we deserve. Contact your representative today!