It's important for everyday West Virginians to be engaged in the fight to strengthen our democracy and pass the For The People Act. This week is West Virginians for Democracy's For the People Days of Action! We aim to show the widespread,  bipartisan support across the state for the For the People Act through a series of online and in person events. Please join us! 
---
Monday, June 21st: Democracy and State Courts Town Hall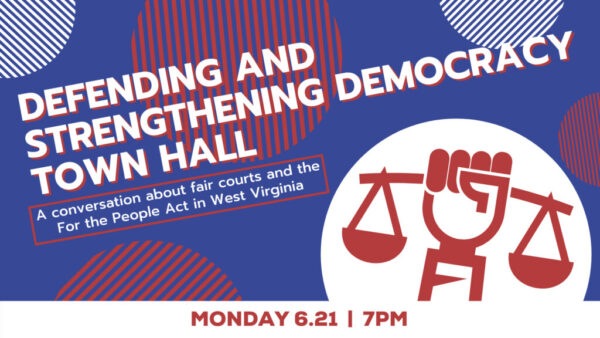 Join WV Citizens for Clean Elections for conversation about fair courts and the For the People Act featuring state and national experts. 
WHO: Brennan Center for Justice Democracy Fellow and Counsel Patrick Berry, West Virginia AFL-CIO President Josh Sword, former West Virginia delegate Sammi Brown, and WVCCE Coordinator Julie Archer. 
WHAT: Virtual town hall highlighting how state-level attacks on judicial independence are interconnected with the fight to protect the freedom to vote. We'll also discuss how these attacks impact the rights of West Virginia workers and families. 
WHEN: Monday, June 21, at 7 p.m.
DETAILS: Click here to RSVP for the Zoom webinar 
The town hall will also stream via Facebook Live. 
---
Days of Action Schedule of Events
Thursday, June 17th: For the People Teach-ins
Saturday, June 19th: Juneteenth

In-person block party & celebration
Charleston – RSVP here

Sunday, June 20th: West Virginia Day!
We must stand up and make our voices heard in defense of our democracy!