Dear Friends, Partners, & Allies, 
We hope you can join us Sunday, May 19 at the LaBelle Theater in South Charleston for the first West Virginia screening of the new documentary Knock Down the House hosted by our partners at the Ohio Valley Environmental Coalition (OVEC). Doors open at 6:30 PM and the film begins at 7:00 PM. 
The film follows four determined women on the campaign trail — including (now Congresswomen) Alexandria Ocasio-Cortez and West Virginia's own Paula Jean Swearengin — as they challenge big-money politicians in the 2018 election.
Although the West Virginia legislature recently passed a bill (SB 622) to allow more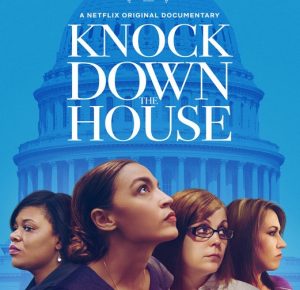 money into our elections, it's exciting to see new leaders emerging who are saying no to big-money and rejecting politics as usual. The way forward isn't with laws like SB 622. The solution is empowering small donors, ensuring equal access to the ballot box, and giving everyday people a greater voice in the political process through reforms like those in our Pro-Democracy, Anti-Corruption Platform. 
A long-time OVEC member, Paula and Nevada's Amy Vilela will be present to take audience questions after the screening. Missouri's Cori Bush, who is also profiled in the film, may also Skype in for the Q & A session. 
Don't miss your chance to see this film that proves that people-powered campaigns have an impact, whether an election is won or lost. Reserve your seat via Eventbrite or Facebook. We'll have information at the event about our coalition work, and the Pro-Democracy, Anti-Corruption Platform. 
Want to do more than attend the screening? Here's a handy social media calendar (complete with sample posts) that you can use to help us promote the event.
Hope to see you there! 
Julie
Julie Archer, Coordinator
WV Citizens for Clean Elections