Friend,
The results of this election are taking longer than usual — and all that means is that our democracy is working.
It may take a while for all of the votes to be counted but the most important thing is that all votes are counted and everyone's voice is heard. Despite the pandemic, more people voted than ever before. We saw massive turnout around the nation, and right here in West Virginia. Now poll workers and election officials are doing an amazing job delivering results, and we are so thankful for their dedication to our democracy.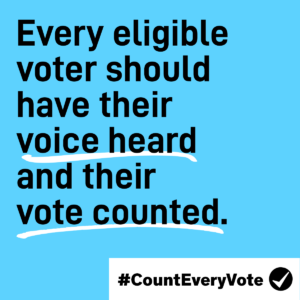 We knew going into Tuesday night that the results may not be known for days or weeks, and that is why we must stay vigilant when it comes to misinformation. Any attempts to undermine the count are direct threats to the integrity of our elections and our democracy. American voters will determine the outcome of the election, not any particular politician or government body. 
It is more important than ever that we continue to fight for clean and fair elections, and that is our mission. Regardless of the results, we will continue to do the work to strengthen our democracy.
Thank you,
WV Citizens for Clean Elections