Your Vote is Your Voice!
With the primary election just 10 days away, we wanted to remind you of some important resources to help you vote safely and exercise your right to vote effectively. 
Remember: Due to COVID-19, all West Virginia voters have the option to vote absentee. All registered voters should have received an absentee ballot application in the mail. This is the safest way to vote while protecting your health and the health of others. 
If you have not received an absentee ballot application, you should contact your county clerk right away.
If you requested your ballot but haven't received it, check the absentee ballot tracking system to see if your ballot has been sent to you. If the request does not appear in the tracker, contact your county clerk. You may need to submit a second request with a note describing it as such if receipt of your initial application cannot be confirmed. Your county clerk must receive your application by June 3.
You can still vote in person if you choose. You can early vote now until June 6 at designated voting locations during normal business hours Monday through Friday and 9:00 am to 5:00 pm on Saturday. There is no early voting on Sundays. You can also vote in person on Election Day (June 9). Either way, it's important to check with your county clerk or visit GoVoteWV.com to see if there are any changes to your polling location before you head out. If you request an absentee ballot but then choose to vote in person, be sure to take your absentee ballot with you for the poll worker to spoil.   
Check out the resources below to learn more about your voting options and the candidates. 
Additional Voting Information
A Pandemic Voter Guide For West Virginia's 2020 Primary from WV Public Broadcasting (published 5/14/2020)
FAQ from the Secretary of State
Important Instructions for Absentee Ballots
Candidate Information 
WV Court Elections (Supreme Court): Three of the most important votes you will cast in the 2020 primary are your picks for the WV Supreme Court. Learn more about these important races and the candidates at https://www.wvcourtelections.org/. 
Herald-Dispatch (US Senate – House of Reps – Governor – Attorney General – Commissioner of Ag – Auditor – Supreme Court): https://www.herald-dispatch.com/elections/wv_candidates/west-virginia-voter-information/article_d465d5cc-9f83-11e5-a1fd-475521e5c95b.html
League of Women Voters of WV – Voter's Guide for Statewide, plus some legislative and county offices:  https://lwvwv.org/voting-during-covid-19/#vote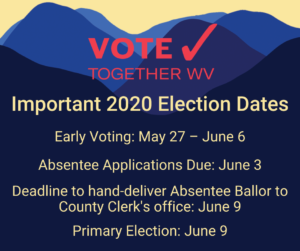 The countdown is on and YOU can help make certain voters are informed for this crucial election!
Use your voice to educate and move others to action.
Here are three things you can do: 
First, we've made it easy for you to share the resources above with others: Click here for sample posts and graphics you can share. 
Second, in addition, to social media we're also asking folks to write letters to the editor to share election information and help us promote the WV Court Elections website. If you missed our recent LTE webinar with ReThink Media you can find the resources and sample LTEs here. 
Finally, you can help your neighbors navigate the changes to this primary election by making phone calls safely from home. The Vote Together WV coalition, which includes several WVCCE partners, is hosting three phone bank shifts now through June 9, where volunteers can support and encourage each other, and also win prizes! The coalition recently hosted a "Dial & Dance" party and a great time was had by all. Check out the photos on the Vote Together WV Facebook page and consider sharing to encourage others to join us in the fun. Sign up and get folks the info they need about absentee voting and the important deadlines that are approaching: http://tiny.cc/VoteTogetherWV