Our elected leaders have a historic opportunity to restore and protect our right to vote by passing the Freedom to Vote Act and the John Lewis Voting Rights Advancement Act. Together, these bills would help us take a step forward to achieving a democracy that is truly representative and responsive to the American people.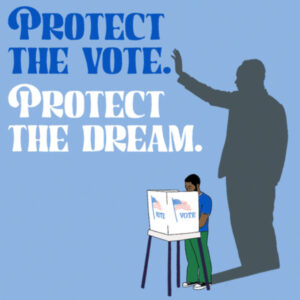 As the U.S. Senate begins debate on new voting rights protections, Race Matters, Faithful Democracy, ACLU- West Virginia, American Friends Service Committee, Charleston Chapter of the NAACP, Black By God, West Virginia Faithful Democracy and Summers County Indivisible are hosting a virtual event to honor the legacy of Martin Luther King Jr, and to discuss the important need to pass these vital pieces of legislation now. West Virginians across the country can tune in virtually via Facebook or Zoom. 
Dr. King's family, Martin Luther King III, Arndrea Waters King, and Yolanda Renee King – along with faith leaders, civil rights leaders, and voting rights advocates across the country – have called for us to focus on demanding voting rights legislation and access to the ballot box.
Now is the time to raise our collective voices and call on our elected leaders to cement the legacy of Dr. King by passing legislation to secure the freedom to vote for all Americans.
The Senate must prioritize protecting our freedom to vote and not allow outdated rules to get in the way.
History will judge senators on voting rights, not Senate rules. They have a choice to come down on the side of the American people or the side of the anti-voter laws silencing the voices of Americans across the country.
Failure to deliver voting rights legislation to the American people will put them on the wrong side of history.
Join us today at noon as we honor Dr. King with action and call on our Senators to do the right thing.
Call Senators Manchin and Capito and urge them to do whatever it takes to pass the Freedom to Vote Act and the John Lewis Voting Rights Advancement Act.