Tomorrow (May 19) is the deadline to register to vote in the 2020 WV primary and judicial elections. Register, check, or update your registration at GoVoteWV.com, then make a plan to vote.
Remember: Due to COVID-19, all West Virginia voters have the option to vote absentee. All registered voters should have received an absentee ballot application in the mail. This is the safest way to vote while protecting your health and the health of others. 
If you have not received an absentee application, you should contact your county clerk right away. If you requested your ballot but haven't received it, check the absentee ballot tracking system to see if your ballot has been sent to you. If the request does not appear in the tracker within a week of submitting an absentee application, contact your county clerk.
You can still vote in person if you choose. Click here to learn more about your voting options. 

Our Court, Our Vote – Know Your Judicial Candidates
Three of the most important votes you will cast in the 2020 primary are your picks for the WV Supreme Court. The decisions it makes affect the lives of all West Virginians.
Learn more about these important races and the candidates at https://www.wvcourtelections.org/.
Despite the significance of the state Supreme Court, tens of thousands of West Virginia voters didn't participate in the past two judicial elections and missed a chance to have their voices heard. Many of those voters simply did not know enough about the candidates and how judicial elections work.
Help others complete their ballots and better understand the importance of these elections. Use our handy social media calendar to share information with your family and friends now through June 9.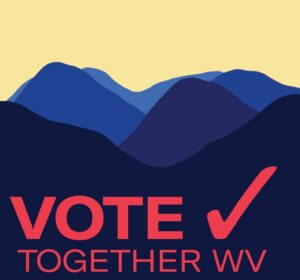 Vote Together WV – Help Your Neighbors Vote
With all of the changes due the coronavirus pandemic, it's important for everyone to  understand how to make their voices heard as safely as possible.
The Vote Together WV coalition is hosting two phone bank shifts per week,where volunteers can support and encourage each other, win prizes, while making phone calls safely from home.
We'll be doing live virtual trainings every Tuesday at noon and every Thursday at 5pm. The next two trainings are Tuesday, May 19 at noon and Thursday, May 21 at 5pm. To join any virtual training, click this link to log into our Zoom room.
Also, here's our volunteer packet to help you get oriented in advance of the training. Once you're trained, you can also make calls whenever works best for you.
Ready to get started? Sign up TODAY!
Let's #VoteTogetherWV to give this primary the best turnout ever!