WV Citizens for Clean Elections – Leaders
 
Jan 15, 2020
 
Dear Friends, Partners, and Allies,
Thanks to everyone who took time to attend out coalition meeting on Friday. We had a great discussion about our goals and strategy for the 2020 legislative session, and notes will be forthcoming. In the meantime, we wanted to share details about a number of upcoming trainings and volunteer opportunities, as well as an opportunity to raise a little $ for yourself or you organization.
There's a lot to do – a lot of ways to get involved – a lot of chances to MAKE A DIFFERENCE in 2020! Click on any of the descriptions below for more information and to register.
Best, 
Julie
Julie Archer, Coordinator
WV Citizens for Clean Elections
---
---
The Charleston Area GOTV Coalition has been provided a voter registration table at the Martin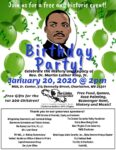 Luther King Birthday Party that will be held on January 20, 2020 at 2:00 P.M. at the Martin Luther King Center, 314 Donnally Street, Charleston, WV 25301. This party is for children of all ages and their parents. Volunteers the are needed to help register people to vote. The event will begin at 2:00 P.M. and end at 5:00 P.M. There will be two shifts. A set up shift from 1:00 P.M. to 3:00 P.M. and second shift from 3:00 P.M. to 5:30 P.M.
Please contact Karen Williams at jkwms53@gmail.com or text or call 304-543-0248, if you are available to participate.
---
Are you ready to take the next step in building our grassroots power and making progress in West Virginia? If so you'll want to take advantage of these two great days of grassroots power building hosted by a coalition of state and local organizations in WV.
Attend one or both days: It's YOUR choice!
These events are especially for people involved in local grassroots groups and local campaigns, or people who want to be. All are welcome! Scholarships are available.
Please register by Friday, January 17!
Learn more below, and register for either or both days, at: https://tinyurl.com/grassrootsWV2020